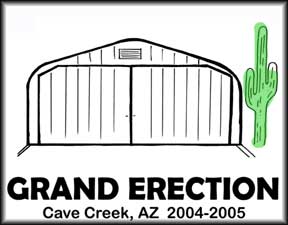 "The Grand Erection"
or
"How We Built a Steel Building in the Back Yard"
It all started because of the great city of Cave Creek, Arizona. I purchased a Toy-hauler for the sandrail and my father offered me a spot to park the trailer when I was not using it. He's got a couple of acres up in the city of Cave Creek, Arizona, and having two travel trailers (his and mine) on the property did not seem terrible. The city of Cave Creek, however, deems the parking of two or more travel trailers in plain sight as unacceptable. (Y'all can have 56 horse trailers, 33 flatbeds, 14 used cars and a bunch of crap, but you can't have 2 nice clean travel trailers on one lot)
So, to satisfy the powers-that-be, we decided to put up a 30' by 50' steel building in the back yard to house the trailers. I think that 2 trailers parked on a lot look quite a bit nicer than a giant shiny steel building, but what do I know?
We had to clear out the Horse barn that existed in the yard, then scrape the area flat, dig trenches for the rebar-reinforced stem walls, then pour the concrete. When the concrete had been poured, The "C" channelto which the building attaches was secured to the stem wall. The building was delivered in many pieces on a flat-bed truck and the "hoops" had to be assembled first:
Click on the thumbnail picture for a larger image.
This is Les and Mike , They're assembling the steel into the hoops that will make up the building. There's 25 hoops, each consisting of 7 pieces secured together with 16 bolts and nuts. The morning started out wet and rainy and a little chilly for an Arizona spring day.
The instructions say to build a scaffolding and hoist the hoops into place using rope and muscle. Once the hoops are in place and erect, they are bolted to the "C" channel in the concrete stem wall. This is the scaffolding we welded together from pieces of the old barn. The first two hoops were bolted together to add some rigidity to the structure before raising them into place.
Here's the first set of two hoops being raised as per the instructions. A bunch of guys on the ground are helping while two are behind the scaffolding with rope pulling the hoops into place.
Once the hoops were upright, they were less-than-steady and had to be held by me on the scaffolding until they were securely bolted to the foundation.
We quickly discovered that using the rope to pull the hoops into place was a worthless idea. It was much easier and much faster to have 5 people with sticks gently and smoothly push the hoops into place. Cody or "catcher boy" was fearless on the scaffolding and easily caught the metal hoops and set them into place. Once in place, there were a bazillion bolts and nuts to be jammed through a bazillion holes and tightened to hold the hoops togther. We made wooden supports that were jammed under the building as it was constructed to keep the center at the correct height and to keep the sides straight vertical and plumb.
Here's 5 hoops raised and being bolted together. For those of us not accustomed to working on scaffolding 12 feet off the ground with no guardrails, the "nutting" or putting in the nuts and bolts, was scary at first, but all of us got pretty used to it by the end. After about 10 hours, we had 8 hoops up and secure by the end of the day. I call BULLS**T on the company for saying that 5 guys could put this building together in 8 hours.
It's the next day, Sunday and now 9 hoops are up. Yesterday afternoon became warm and sunny, today is looking warmer and sunnier.
Closer to afternoon and the building is coming along. Cody is still the 'catcher boy' on the scaffolding. None of the bolt holes line up as they show in the instructions. We were to told to get a screwdriver and use it to help align the holes. A fine idea, but each hoop is 16' tall and 30' wide and is quite flexible, it takes almost 1/2 hour for 6 people to get all the nuts and bolts through the holes and secure a hoop to the structure.
The end of Sunday and the last hoop of the day is being erected. We're all very tired and very sore at this point. Time for a cerveza!

This is the construction crew, from left to right:

Dick, Ken, Les, Gary ( the passion of the Cormany), Mike, Bob, Bob, Scott, Cody and Brent. Cody and Brent work in construction and their expertise was invaluable during this project.

This is part of our support crew: Colleen, Jane, Lauren, Barbie and Thomas
The other part of our support crew: Gretchen with Sara and Lauren
See here for Stainless Steel Casting of Jewelry and Small parts:
and see here for your jewelry needs: